Archive for August, 2016
Monday, August 22nd, 2016
Travellers at Moscow's Sheremetyevo international airport can now buy a model Kalashnikov assault rifle before they catch their flight.
A Kalashnikov boutique has opened at Sheremetyevo to promote the world-famous Russian gunmaker's brand.
The shop's souvenirs include camouflage gear and "I love AK" T-shirts.
The AK-47 assault rifle has a worldwide reputation for reliability. The Soviet bloc countries, and many guerrillas, relied on the gun for decades.
An airport official quoted by Reuters news agency said the model guns were clearly imitations and would not pose security problems.
Sheremetyevo is Russia's biggest international airport, and handled more than 31 million passengers last year.
There is widespread international concern about replica weapons which can be mistaken for the real thing and potentially used by terrorists.
Kalashnikov souvenirs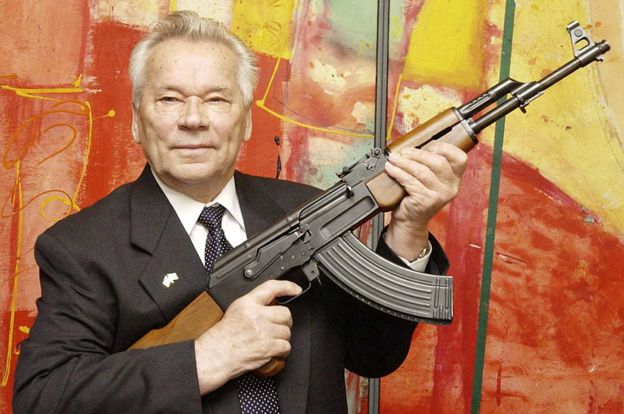 A Russian state corporation, Rostec, owns 51% of the shares in the Kalashnikov concern, which makes the guns at Izhevsk, in central Russia.
In 2014 the EU and US added Kalashnikov to their lists of Russian arms manufacturers subject to sanctions because of Russia's annexation of Ukraine's Crimea peninsula.
The airport shop is part of the firm's drive to expand its civilian merchandise.
"Kalashnikov is one of the most popular brands that come to mind when people think of Russia," said the firm's marketing director Vladimir Dmitriyev, quoted by RIA Novosti news agency.
"So we are pleased to provide everyone with an opportunity to take home a souvenir with our brand on it."
Source: http://www.bbc.com/news/world-europe-37143493
Monday, August 22nd, 2016
BERLIN (Reuters) – The leader of the populist Alternative for Germany (AfD) party has spoken out in favor of people arming themselves with guns and self-defense devices following a series of violent attacks last month.
The anti-immigrant AfD has won growing popular support in Germany due in part to Europe's migrant crisis, which has seen more than 1 million refugees arrive over the past year, and it now has seats in eight of Germany's 16 state assemblies.
After two Islamist attacks and a shooting rampage by a mentally unstable teenager last month, Germans are on edge and the AfD is expected to make a strong showing in votes next month in Berlin and Mecklenburg-Vorpommern.
"Many people are increasingly feeling unsafe. Every law-abiding citizen should be in a position to defend themselves, their family and their friends," Frauke Petry told the Funke Media Group in an interview published on Saturday.
"We all know how long it takes until the police can get to the scene, especially in sparsely populated places," she said.
Known for her fiery speeches to AfD supporters, Petry sparked an uproar earlier this year when she called for German police to be allowed to use firearms against illegal migrants.
Petry rejected calls to toughen up gun laws, saying this would affect respectable citizens and not those who acquire weapons in the so-called "dark net", which is only accessible via special browsers.
Instead, she criticized "ruinous cuts" on police and said the state at lost its monopoly on the use of force in places.
Germany has some of the most stringent rules around gun control in Europe. Firearm owners must obtain a weapons licence for which applicants must generally be at least 18 years old and show they have they have a reason for needing a weapon.
Nonetheless, sexual assaults on women in Cologne at New Year and three fatal attacks have added to the feeling of vulnerability and prompted Germans to stock up on scare devices.
The number of Germans applying for so-called "small firearms license", which are required to carry around blank guns and pepper spray, jumped 49 percent in the first half of 2016 to 402,301, according to federal statistics.
However, permits for firearms fell to 1.894 million as of the end of June compared to 1.898 million a year earlier.
(Reporting by Caroline Copley; Editing by Dominic Evans)
Source: https://www.yahoo.com/news/german-wing-leader-backs-citizens-arm-themselves-101701905.html?ref=gs
Friday, August 19th, 2016
(Reuters) – Venezuelan police crushed and chopped up nearly 2,000 shotguns and pistols in a Caracas city square on Wednesday, as the new interior minister relaunched a long-stalled gun control campaign in one of the world's most crime-ridden countries.
Interior Minister Nestor Reverol said the event marked the renewal of efforts to disarm Venezuelans, through a combination of seizures and a voluntary program to swap guns for electrical goods.
Venezuela has the world's second highest murder rate and the street gangs that plague its poor neighborhoods have become increasingly heavily armed in recent years, at a time when a deep recession has reduced resources available to police.
Gangs often get weapons from the police, either by stealing them or buying them from corrupt officers, experts say.
With inflation of 185 percent in 2015 and a currency collapse, police salaries have fallen far behind rising prices creating more incentives for corruption.
ADVERTISEMENT
President Nicolas Maduro promoted Reverol this month, days after the United States accused the former anti-drugs tsar of taking bribes from cocaine traffickers.
"We are going to bring disarmament and peace," Reverol told reporters, while police officers drilled and sawed at rusty shotguns, home made pistols and some newer weapons.
Other guns were crushed in truck-mounted presses. Some members of the public watched, although more danced to a nearby sound system playing salsa music.
Venezuela has also bought laser technology to mark ammunition, Reverol said, in an attempt to keep a registry of the bullets given out to the South American nation's many state and municipal police forces.
Experts say that much of the ammunition used in crimes in Venezuela is made at the country's government munitions factory and sold on by corrupt police.
(Reporting by Frank Jack Daniel; Editing by David Gregorio)
Source: http://mobile.reuters.com/article/idUSKCN10S2I9
Monday, August 15th, 2016
India is seeking to boost arms exports 20-fold in a decade to $3 billion, a push that if successful would transform one of the world's biggest importers into a major seller of defense equipment.
Steps by Prime Minister Narendra Modi to spur defense manufacturing, if properly implemented, open up the possibility of hitting that figure by 2025, Defense Production Secretary A. K. Gupta said. The challenge is to boost private-sector investment and technological expertise, he said.
"This will not only take us toward the goal of self-reliance in defense production, but will also create tremendous employment opportunities," Gupta, one of the top bureaucrats in India's Defense Ministry, said in the interview in New Delhi last month.
 India sells about $150 million of arms
overseas
yearly — a fraction of the $64 billion in worldwide defense trade — ranging from parts for Russia's Sukhoi fighter jets to a naval vessel recently commissioned in Mauritius. The nation relies on strained state manufacturers that lack some of the expertise of global defense majors, signaling a need for more private-sector involvement even as companies are wary of
difficult
business conditions.
"India's exports target seems ambitious," said Deba R. Mohanty, a defense analyst and chairman of Indicia Research & Advisory in New Delhi. "If it's able to meet such targets, then it will in all likelihood be a competitor to many countries, including China."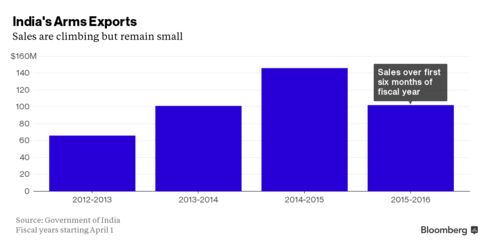 The sectors where India has export potential include naval ships, helicopters and components for aircraft, according to consultant PricewaterhouseCoopers LLP.
China's defense exports reached $1.5 billion in 2014, the eighth-largest in the world in a ranking dominated by the $23.7 billion sold by the U.S., according to IHS Inc. research. India imported $5.6 billion, the most after Saudi Arabia.
Climbing Shipments
India estimates exports of materiel more than doubled over the two fiscal years ended March 2015 to 9.9 billion rupees ($145 million).
Modi's policy changes include fewer curbs on foreign investment in defense, looser export controls and a reworked procurement policy that's set to encourage domestic output. His government has authorized about $65 billion of arms purchases since taking power in May 2014 and is targeting a major naval expansion with locally made ships.
The administration is also sharing the blueprints of state equipment — such as theRustom drone — with the private sector for the first time, to spur technological development and possible overseas sales.
Companies ranging from Larsen & Toubro Ltd., India's biggest engineer, to Airbus Group SE sense opportunities from less onerous rules and the drive for modernization.
State Companies
But there's a long way to go.
Modi in April scaled back a long-pending order for 126 Dassault Aviation SA Rafale warplanes, which stalled partly because the tender included the challenge of making 108 of the complex jets at India's state-run Hindustan Aeronautics Ltd.
In the end, the premier opted for 36 Rafales from France in fly-away condition. France's Safran SA subsequently shelved plans to make engine parts for Rafale aircraft in India. The episode shows the task Modi faces to catalyze a defense-industrial complex.
State companies account for more than 80 percent of defense production and are already stretched, according to Anurag Garg, a director of defense at Strategy&, a consulting group of PwC. Depending on the private sector to spur exports significantly would need companies to design weapons systems to sell abroad, and that's no easy task, he said.
The government is trying to do its bit by improving the policy framework, but the push needs the support of industry, said Gupta from the Defense Ministry.
"Industry also needs to come up and accept the challenge," he said.
Source: http://www.bloomberg.com/news/articles/2016-01-27/india-s-3-billion-arms-export-goal-puts-china-in-modi-s-sights
Tuesday, August 9th, 2016
Russian weapons manufacturer Kalashnikov has reportedly offered Russia's Special Forces a brand new adaptive assault rifle, which outmatches all of its previous products.
The AK-400 is superior to the tried and true AK-74 and state-of-the-art AK-12 in terms of both precision and fire dispersion, a source within the Russian military industry told Izvestia newspaper. "AK-400 assault rifles were presented in late 2015 at a meeting organized by the Presidential Security Service. The products have interested customers, and they are now studying the offer," he said. According to the source, the AK-12, which has been in service in the Russian military since 2014, doesn't fully meet the requirements of elite Special Forces. "AK-12 is a weapon for the infantry, paratroopers, and reconnoiters. And the troops in the Special Forces need a more compact rifle, which – on the one hand – isn't inferior to Ak-12 in precision and fire dispersion, but – on the other hand – is compact enough to storm buildings, planes, trains, and buses, as well as jump with a parachute and walk in the forest," he explained.
The source didn't share a lot of information about the AK-400, however, and all that is known about the assault rifle is that it has a length of approximately 940 millimeters and weighs slightly over 3 kilograms. The new Kalashnikov will have a special "cutoff" fire mode that releases bullets only when the trigger is pulled. It also has a retractable telescopic butt-stock that allows it to be shortened in a matter of seconds, allowing the rifle to be used inside of a car or even hidden under clothing.
The AK-400 is equipped with a Picatinny Rail, a mounting platform for various sights, pens, flashlights, and laser target designators. The assault rifle is intended for use by the Presidential Security Service, as well as Alpha, Vympel, and other Special Forces units in the Federal Security Service (FSB).
Source: https://www.rt.com/news/343695-kalashnikov-superior-assault-rifle/
Thursday, August 4th, 2016
NEW DELHI — As mass shooting incidents in the United States rise, India has tightened its firearms regulations, making it even more difficult for common citizens to own a gun.
India already had some of the strictest gun laws in the world, a vestige of British colonial rule, which aimed to disarm its subjects. Indian law allows citizens to own and carry guns, but it is not a right enshrined in the constitution. Getting a gun license in India is a difficult task that can take years.
Now, in the most ambitious restructuring of arms rules in more than five decades, the government has made the laws even tougher. Prospective gun owners will have to show they have been trained, and they must carry their firearms only in holders and secure them in a "knocked down" condition in gun lockers at home. The government will declare new gun-free zones, in addition to schools, across the country. Even air guns will require an arms license.
The new gun restrictions are not a reaction to recent violence. The process has taken five years, but it quickened after Prime Minister Narendra Modi was elected in 2014. The rules were put into effect last month and will be presented in Parliament.
An official in the Ministry of Home Affairs, speaking on the condition of anonymity because he is not authorized to talk to the media, said the changes are intended "to bring in transparency in the arms-control regime, prevent, combat and eradicate illicit trade in small arms and light weapons . . . and bring in the contemporary practices in international laws."
The changes have riled the nascent National Association for Gun Rights India.
"We are very disappointed. What the government is saying is that it cannot trust its citizens," said Rahoul Rai, the group's president.
The "last few years, we have discussed with the government steps to remove the harassment law-abiding citizens face in getting firearm licenses," Rai said. "One shouldn't have to jump through 25 hoops to get a license. Unfortunately, they have created a situation where people will get desperate and will end up getting illegal guns."
From now on, an official who issues or denies a gun license will have to write down the reasons. Rai said that is unworkable because no bureaucrat will "stick his neck out." Licenses are issued for three categories: self-defense, sports and crop protection.
The official said that "imminent" threat has been replaced with "anticipated" threat because the former was "difficult to prove" for applicants.
India shifted from century-old manual record-keeping recently and put into a national database information on about 2.6 million gun-license holders.
According to the National Crime Records Bureau, gun-
related deaths increased from 3,063 to 3,655 between 2010 and 2014. There were 10 times that number in 2013 in the United States.
But only 14 percent of the victims in 2014 in India were killed by licensed guns. The rest were killed by illegal weapons, largely prevalent in the hinterlands.
An American is 12 times more likely to be killed by a firearm than is an Indian, according to an analysis by the group ­IndiaSpend, based on a database collated by Gun Policy, a global gun watch group.
India, along with countries such as Australia, has among the tightest gun laws in the world. The United States has some of the most lenient.
Activists say India should not go the American way.
"Some Indians are inspired by the easy American culture of buying guns off the counter," said Binalakshmi Nepram, founder of Control Arms Foundation of India. "We are a country that won independence from colonial rulers without firing a single shot. Making it easy for citizens to arm themselves would mean the state admits that it has failed to provide security."
For the first time, however, the government has allowed citizens to own licensed electronic disabling devices such as taser guns — a step many say will boost women's safety. After the fatal gang rape of a 23-year-old student in a moving bus in 2012, women have begun carrying pepper spray in their purses and learning martial arts. The government even introduced a lighter taser gun for women.
The official said such devices will also be used to guard banks, toll plazas and other public places.
Even as the new rules make it difficult for average citizens to own guns, they have cleared the way for local manufacturing of guns by private companies, in line with Modi's push for defense production. In June, Modi allowed 100 percent foreign investment in the defense sector.
"This is the green signal we were waiting for," said Ashok Wadhawan, president of manufacturing at Punj Lloyd, which has a partnership with Israel Weapon Industries. "At first, we will be selling them to the Indian army and the police. It is extremely prestigious for them to hold an Indian rifle instead of an imported rifle."
But the most puzzling move for many is that air guns, blank-firing guns and paintball guns are now classified as weapons that will require a license, which is vexing to sport enthusiasts.
The official said that this was done to check "potential misuse," because with some "machining and drilling" they could be converted into firearms.
"Overnight, my son is a criminal," said Chandan Agarwal, a gun owner and entrepreneur.
Abhijeet Singh, a 43-year-old software engineer and gun owner who set up the Indians for Guns website, said, "Nobody has started a rebellion in any country with an air gun."
Source: https://www.washingtonpost.com/world/asia_pacific/india-had-the-one-of-the-strictest-gun-laws-in-the-world-it-just-got-tighter/2016/08/01/affd9422-51da-11e6-b652-315ae5d4d4dd_story.html
Monday, August 1st, 2016
KAMPALA (HAN) July 30.2016. Public Diplomacy & Regional Security News. By IVAN R MUGISHA. Uganda's gun control policies have come under scrutiny following a new study that shows the country has the highest number of armed crime incidents in the
The study, titled Analysis of Armed Crime Rates, released last Monday in Kigali, was conducted between 2010 and March this year by the Regional Centre on Small Arms (RECSA) in conjunction with the African Development Bank.
The report shows that an alarming 43,512 armed crime incidents were reported in the country between 2010 and 2014, which is the highest in East Africa. The estimated total number of guns held by civilians in Uganda is 400,000, yet only about 3,000 are legally registered, according to Gun Policy statistics.
Uganda's Police Commissioner Okello Makmot said the high incidence can be attributed to the country's location "in the hub of a conflict zone, with various rebel groups from the neighbouring countries of the Democratic Republic of Congo and South Sudan who are believed to sneak in unregistered arms into the country."
He said that despite the government carrying out an intense exercise to disarm the Karamojong in the east of the country, Kenya and Sudan have not done the same, meaning arms can easily be sneaked in. Over 40,000 guns were recovered in the recent disarmament.
According to Oneste Mutsindashyaka, the executive secretary of RECSA, Rwandans are 80 times less likely to fall victim of armed crimes than Ugandans.
Rwanda experienced the least number of armed crimes, with only 421 incidents reported in the period under review.
Burundi reported 26,041 armed crime incidents — the second highest in the region — followed by Kenya with 11,827 and Tanzania with 9,646.
"Small arms circulation across the borders is a key driver of armed conflicts in the region. It is against this backdrop that RECSA has been implementing a number of projects in the region aimed at combating the proliferation and use of illicit firearms," said Mr Mutsindashyaka.
Somorin Alufunso, a senior policy analyst at AfDB, said armed conflicts continue to destroy lives in the region and called on countries to implement policies aimed at eliminating illicit flow and use of firearms.
Each country has put in place mechanisms to curb armed crime, but not all are strictly implementing those mechanisms, which has led to armed crime being a serious threat to regional security, according to RECSA.
Source: http://www.geeskaafrika.com/21990/ugandas-gun-control-under-scrutiny-as-armed-crime-rises/#